This blog entry is based on a thread I started on this subject on a messageboard last year. The purpose was to introduce the music of Loudon Wainwright III to those who really only know him as father to Rufus and Martha, or author of "Dead Skunk." I never got around to finishing it; perhaps I will do so when I've edited and published all the previous instalments here.
I don't really like Loudon's first couple of albumns very much (in fact, I'm of the opinion that his best work was in the 80s and 90s). The first album, which came out in 1970, was just called

Loudon Wainwright III

, although it is sometimes known as Album I.

The cover suggests some kind of proto-punk à la Iggy Pop. Loudon's angry strumming occasionally does suggest something of that image; but already on the very first song on his very first record he's looking back into the past and showing one of his enduring qualities: the ability to look at himself honestly, critically, and even satirically. He casts himself as the rebel without a cause, but totally changes the meaning of the song by presenting it in the past tense and emphasizing that all this was "when I was younger." It's as though Dylan's very first recorded song had been "My Back Pages". There is indeed a touch of Dylanesque phrasing in "Blaspheming booted blue-jeaned baby boy" (think of Dylan lines like "the motorcycle, black Madonna, two-wheeled gypsy queen"), but it's also unmistakably a Loudon Wainwright III song.

This first song,

School Days

, is easily the best song on the first album, and it's one that has endured. Loudon still sings it today, and it is probably his most covered song. It's one of the great songs about adolescence, a worthy counterpart to Springsteen's "Growing Up" (Bruce was getting his start about this time too).

The rest of the album is an anticlimax. He shows some signs of the talent for storytelling that he would later hone to perfection, but most of the stories just peter out before they've got anywhere. His sardonic humour and irreverence are also in evidence, but too often descend into facile sarcasm, e.g. in

Glad To See You Got Religion

.

Anyone producing an acoustic album of self-penned songs was going to be compared with Dylan (and still is), but at the time

Album I

appeared, there was what can only be defined as an

Absence of Bob

in the culture, the man himself having disappeared to Nashville to write country ditties about family life and eventually to fall silent altogether. The albumn "Self-Portrait" with its cheesy pop covers, country crooning, and deliberate iconoclasm was seen by some critics as virtually a suicide note. Bob Dylan is dead, bring on the new Bobs. Competition to crown the "new Bob Dylan" began almost immediately with the seventies, and our boy Loudon was one of those thus tagged. He wrote about this phenomenon himself many years later on his masterpiece,

History

(1992). The CD booklet with that album reproduces a New York Times article from July 1970. The headline, referring to the famous Greenwich Village café where Dylan and other folkies made their debuts, read:

Loudon Wainwright at Gaslight Evokes Dylan Comparisons.

The album features a song taking off the Woody Guthrie/Bob Dylan talking blues style and looking fondly at this period (the song is dedicated to Bob on his 50th birthday):

Talkin' New Bob Dylan

. Catch the nice bit at the end about Martha listening to "Like A Rolling Stone" at full volume!

But the comparison was never really apt. Loudon was not cut out to be the new Wunderkind, and wouldn't really find his voice (in my opinion anyway) until he hit middle age.


Going back to the beginning again, 1971 saw the release of

Album II

, like its predecessor, a solo acoustic album.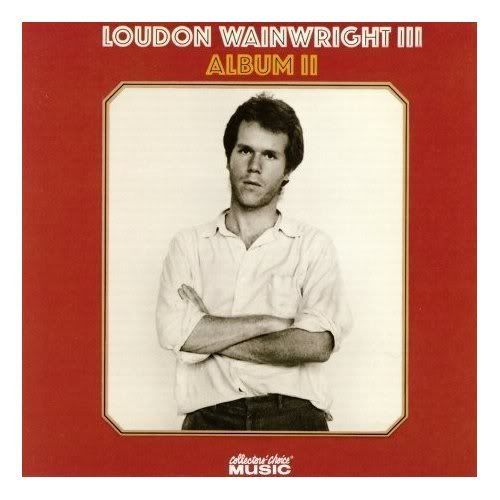 There's not much to say about this album; the songs are as half-formed as most of those on its predecessor.

Motel Blues

is the first of Loudon's songs about his alleycat ways on the road; it was revived a few years ago by Ben Lee. The humorous ditty

Be Careful There's A Baby in the House

(not written about Rufus, despite what you may read on some websites—Rufus wasn't born till two years later) has some nice guitar.

Drinking Song

sounds like Leonard Cohen's "Teachers." Loudon was apparently drinking heavily himself at this period, although the song doesn't mention this; later he would learn to deal with these issues more directly.

Perhaps the best song is the traditional

Old Paint,

sung with Canadian folksinger Kate McGarrigle, to whom he was by then married.

After Album II, like its predecessor, had failed to sell, Loudon was dropped by his record company, Atlantic Records. But his follow-up album on Columbia was to bring both critical and commercial success.

Time to tackle that Dead Skunk.....



So on to Loudon's new start on Columbia Records (Home of the Bob since 1961), and at last a decent album cover: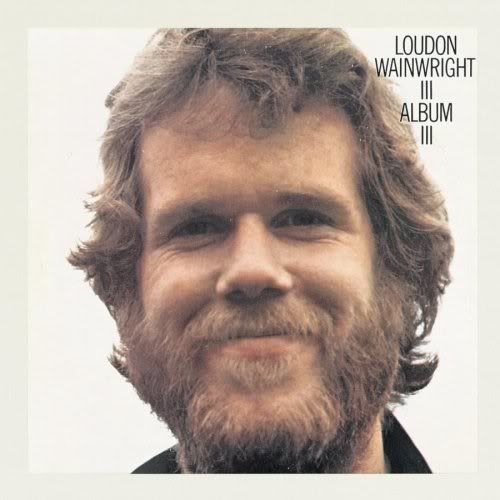 At this point I can do no better than quote from Loudon s own speech at the Ohio University Spring Literary Festival a couple of years back:


On my third record, imaginatively entitled "Album III," there were more 'songs of inexperience' and autobiographical angst, but also a novelty tune I made up in 12 minutes about a dead skunk I ran over while driving in northern Westchester County, New York. Good instincts (get it?), great karma, dumb luck, plus plain old payola, all combined, and the result was my only hit heretofore and thus far, #12 on the Billboard Chart and #1 in Little Rock, Arkansas for six weeks. Suddenly I did have a pretty cool life. I was the "Dead Skunk" guy.

25 years old and I pretty much had made it. The critics' darling was now a success. So what happened? Why is it that many of you here today aren't quite sure who the hell I actually am, aside from Rufus Wainwright's father? Why is finding a CD of mine akin to archeology? Where were the follow up hits to "Dead Skunk," funny animal songs like "I Met Her at the Pet Store" and "Stay Away From My Aardvark?" There are answers to these questions, reasons for the "what," the "whys," and the "where." Indeed, I could hold forth for hours this afternoon on the subject of my career. Over the years I've done just that for any number of psychotherapists. But we don't have enough time today and I have trust issues with strangers who congregate in groups on college campuses. Besides, this talk is about writing and not my self-destructive tendencies. (But if you're interested in charting the molehills and valleys of my career, it's all been chronicled in song. Hey kids, fire up those mp3s and check out "Fame & Wealth," "A.M. World," "The Grammy Song," "Mr. Ambivalent," and "They Spelled My Name Wrong Again!")


That quotation is Loudon all over: funny, self-deprecating, honest, but with an underlying sense of thwarted ambition: the reference to his 1997 song

Mr Ambivalent

is no accident.

When fame came, Loudon couldn't handle it. He started wearing a false beard in public. He grew tired of his hit novelty song, and resented the fans demanding to hear it in concert. In his liner notes to the 1998 reissue of his fourth album,

Attempted Moustache

, he writes: "I was more than just a tad ambivalent (that word again!) about this success.

Attempted Moustache

bombed with the critics and John Q. Buying Public. That made me much more comfortable"; while in the notes to the reissue of "Unrequited", he writes with tongue in cheek, but also poignantly of the live tracks included on the album: "Please note how at the end of that I graciously thank my audience, only to be rewarded with screams for 'Dead Skunk."

Is it any wonder Loudon wasn't able to handle Rufus's later success? He couldn't handle his own. Already on Album II, in the song

Saw Your Name in the Paper

, he had written of someone else's success in the music business:

Take the money, take the love
Take all the people give
The people all are dying
And somehow you help them live
Oh, the people will destroy you
That love will turn to hate
But right now you must scratch it
Your itch that's grown so great.

Make yourself a hero
It's heroes people crave
Make yourself a master
But know you are a slave

That's a typical Loudon song, that comes over both as anitpathetic towards fame and its rewards, but also jealous of those who enjoy them while he doesn't (the song starts "Saw your name in the paper/It was quite a blow").

Anyway, on Album III Loudon has a band on about half the tracks. Apart from "Dead Skunk" there are some genuinely good songs, if nothing yet to match "School Days" from the very first album.

Red Guitar

(solo acoustic) starts off with a classic verse:

Used to have a red guitar
Till I smashed it drunk one night
Smashed it in the classic form
As Peter Townshend might...

But the song goes on to talk about Kate reproving him for his actions, and his buying a replacement guitar, which gets stolen by a hippy. Unfortunately, we never learn why he smashed it (unless "drunk one night" is the explanation).

Then there is a lovely ballad

Needless To Say

. There is even a better animal novelty song than "Dead Skunk"; called

B Side

it's about the sex life of bees.

(I would like to hear this song done as an Elvis Presley parody,. Imagine Elvis doing it in his "If you're looking for trouble/You've come to the right place" or "I Got Stung" voice.)

The final song,
Say That You Love Me
,
is also typically Loudon in its blend of comedy and desperation: "I must know you love me/There must be no doubt/Open your heart/Open your

mouth

!"

Next:

Attempted Moustache

and the first songs about Rufus (prenatal and at three weeks)!