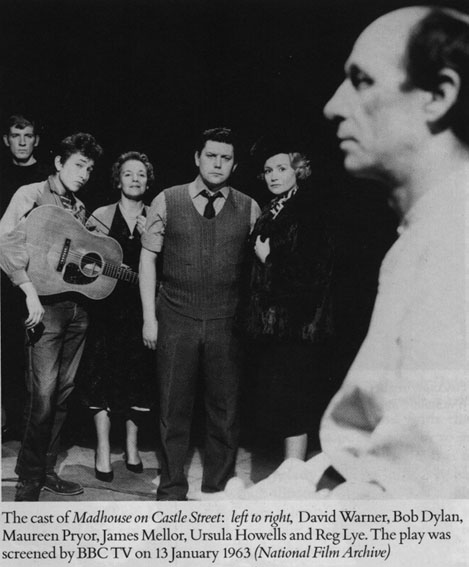 BOB DYLAN'S BIG FREEZE - BBC Radio 2, November 25th 2008
Bob's Big Freeze
November 25th 2008
BBC Radio 2, 10.30-11.30pm
From
The Times
:

Radio Choice
Bob's Big Freeze
Chris Campling
Bob Harris tells the fascinating story of a significant but largely unknown chapter in the life of that living god, Bob Dylan. In 1962 the newly famous Bobster came to Britain to appear in a BBC TV play called Madhouse On Castle Street. While he was here he stayed with that eminent British folkie, Martin Carthy, who opened Dylan's ears to a whole new way of making music (Don't Think Twice It's Alright, and Bob Dylan's Dream were heavily influenced by his exposure to traditional English folk music). He also had the unequalled joy of living through the famously bitter winter of 1962-63, when Carthy was reduced to chopping up a piano for firewood.
This BBC radio documentary about Bob Dylan's first visit to the United Kingdom in the freezing winter of 1962/3 was OK, but could have been better, especially as this ground has been trod before and fairly recently, also by the BBC (
Dylan in the Madhou
se, 2005). It was interesting to hear a few different voices from the early 60s British folk scene, although of course Carthy and Davenport were trotted out again (not that I'm complaining, I love Martin in particular).
I also think it could have been a little less sloppy. For instance, when Bob Harris asks "Who knows what a big influence the U.K. folk scene had on Dylan at this time?" (or words to that effect), the song playing behind him is
A Hard Rain's A-Gonna Fal
l, which was written a couple of months
before
Bob set foot in England. It was left to Carthy to make the point that Dylan was already familiar with English, Scottish, and Irish folk music before he arrived in England.
Hard Rain
, for instance, is based partly on the Child Ballad, "Lord Randall." However, it was fascinating to hear in this programme that Bob may have also been influenced by another source (I shall elaborate later in an edit to this post). This was one of the few genuinely new (to me, at any rate) pieces of information in
Dylan's Big Freeze
.
It was also implied that the protest element in Bob's music came from the UK folk scene (especially Scottish folk song, which Davenport told him was all political). Carthy also claims that the anthemic quality of some of the songs Dylan wrote in the next couple of years came from his exposure to the UK scene.
But Bob was already writing political songs --
Death of Emmett Till, Let Me Die in My Footsteps,
and
Talking John Birch Society Paranoid Blues
, for example. The important person here, apart from Bob himself, was his girlfriend at the time, Suze Rotolo, who inspired his interest in politics. Plus there is a protest element in some blues (Big Bill Broonzy, for instance, whose "When Will I Get To Be Called A Man?" may have given Bob the idea for one verse of
Blowin'
). And for anthemic material, Bob could turn to negro spirituals (as he did for
Blowin' in the Wind
, which was inspired by
No More Auction Block
, which he probably learned from Odetta). Plus, of course, Bob couldn't help being influenced by the Civil Rights movement in America itself at the time. All of this was surely more influential on Bob's political material than Carthy or Davenport. And that's without even mentioning Woody Guthrie!
It is true, though, that on his return to the States he withdrew the first version of
Freewheelin'
and replaced four of the songs with what he called "fingerpointing songs", which was probably the result of his British visit. Otherwise the record would probably have been more blues- oriented (its original title was
Bob Dylan's Blues
). But it already contained
Blowin' in the Wind
(recorded in July, written months earlier) and
A Hard Rain's A-Gonna Fall
(recorded in December at what was supposed at the time to have been the final session for the album).
There is so much that Bob was absorbing at this time (including Brecht, which is a major influence on
The Times, They Are A-Changin'
). That's why he's so fascinating, and why programmes like this one, which only focus on one element, miss the point. The first part of Martin Scorsese's brilliant
No Direction Home
is the best documentary of Bob's early period precisely because it shows what a sponge he was, soaking up a wide range of influences incredibly quickly and using them to produce something new.
Incidentally, it is ironic that Bob left Minnesota because (as he tells us in his interview in
No Direction Home
) it was "too cold to be different", only to arrive in New York in the middle of "the coldest winter in 17 years." Then when he went to England for the first time, it was our coldest winter since the 18th century!
For those who missed the transmission, I have provided an mp3 below. If you download it, by way of thanks you might like to click on some of the Google Ads, which will help me stay on line.

Bob Dylan's Big Freeze
(Big download, 78MB).